Welcome to Brolga Publishing
Brolga Publishing has successfully published several hundred Authors through its Royalty Partnership Publishing service.
Additionally, for Authors and corporations and clubs who wish to build their own books, Brolga Publishing provides a proven and successful Self Publishing and Corporate Custom Publishing service.
Royalty Partnership Publishing operates as follows: An Author with a completed manuscript (mss) will submit their mss to Brolga Publishing to undergo a complete edit to ensure the mss is ready for publishing. Brolga Publishing provides this editing service at a subsidized cost the Author's. Brolga Publishing is then responsible for all the production costs and management costs associated with transforming the edited mss into a book available for sale in the marketplace. This includes the mss being professionally type set, designed (including the cover design), printed, marketed and distributed into the general and specialised book trade for public purchase.
Marketing and Distribution for Brolga Publishing's titles includes sales and marketing through their contracted distributors: Macmillan Australia and New Zealand, as well niche distributors. This extensive access to bookshops and the book marketplace ensures Brolga publications are widely available to the general public in order to maximise an Author's book sales and Author Royalties.
Authors contracted into Brolga Publishing's Royalty Partnership arrangement receive royalty payments based on sales into the book trade and Brolga's direct-into-market sales.
Authors also purchase a set quantity of their books to sell and market directly. These Author copies enable the Author to generate additional income and branding e.g. the Author may use their Author copies for selling at their book launch, workshops, seminars, markets, schools etc (see Fact Sheets).
All Brolga Publishing Authors receive Author Fact Sheets that offer information to assist with promoting and selling their Author copies and establishing an Author Business Plan that is suited to them. Fact Sheets include:
Book Launch Fact Sheet

Book Selling Fact Sheet

Publicity Fact Sheet

Public Talk and Seminar Fact Sheet

Author WEB and Digital Fact Sheet

Author Networking Fact Sheet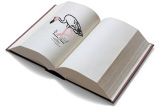 Member of the Australian Book Publishers' Association